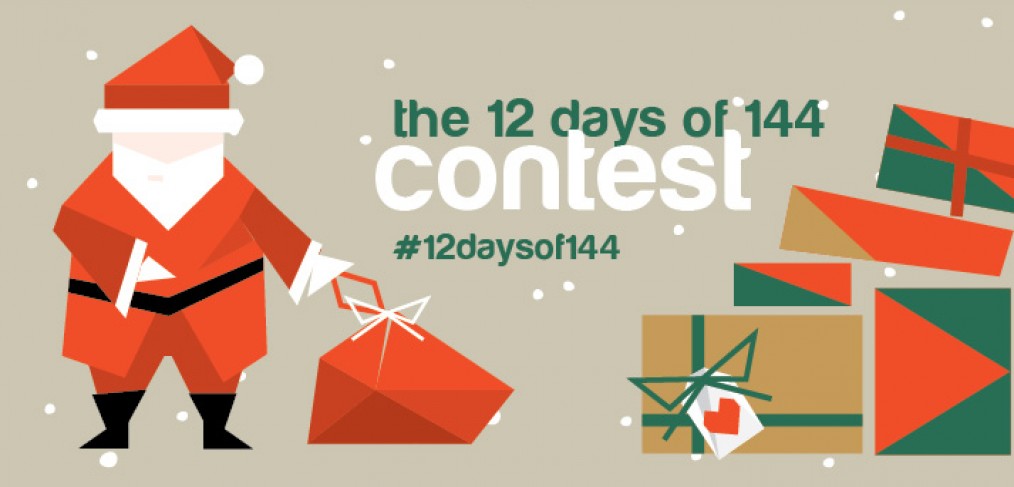 The 12 Days of 144 Contest
#12daysof144 creative contest
We love creativity and Christmas at 144design so in the spirit of competition we created a contest!
How to play:
Check out the theme

for the day and let the creative juices flow. We accept all mediums as long as they are creative original content and fun loving. Some ideas: Illustrations, photographs, gifs, drawings, home videos, anything you can think of…

Post

on Facebook, Twitter or Instagram

Follow us

@144design


Tag

it #12Daysof144

Repeat for 12 days as you wish
How to Win: (Santa delivers)
Just for playing participants are entered once into a drawing for a prize (to be released).
(Participants can only play once per day and must post by midnight CST on that given day.)
At the end of the 12 days our elite panel of judges will choose the top three posts among all themes based on: creativity, relevance and Christmas spirit.
On Friday, January 1st we will announce the 4 winners and will contact you at that time so we can get you the goods!
Days: (Starting Monday the 14th – Ending Friday the 25th)

1 Snow
2 Christmas Cookies
3 Egg Nog
4 Mistletoe
5 Jingle Bells
6 Santa
7 Christmas Stockings
8 Figgy Pudding
9 Christmas Tree
10 Presents
11 Christmas Past
12 Family
Happy posting – stay safe =]